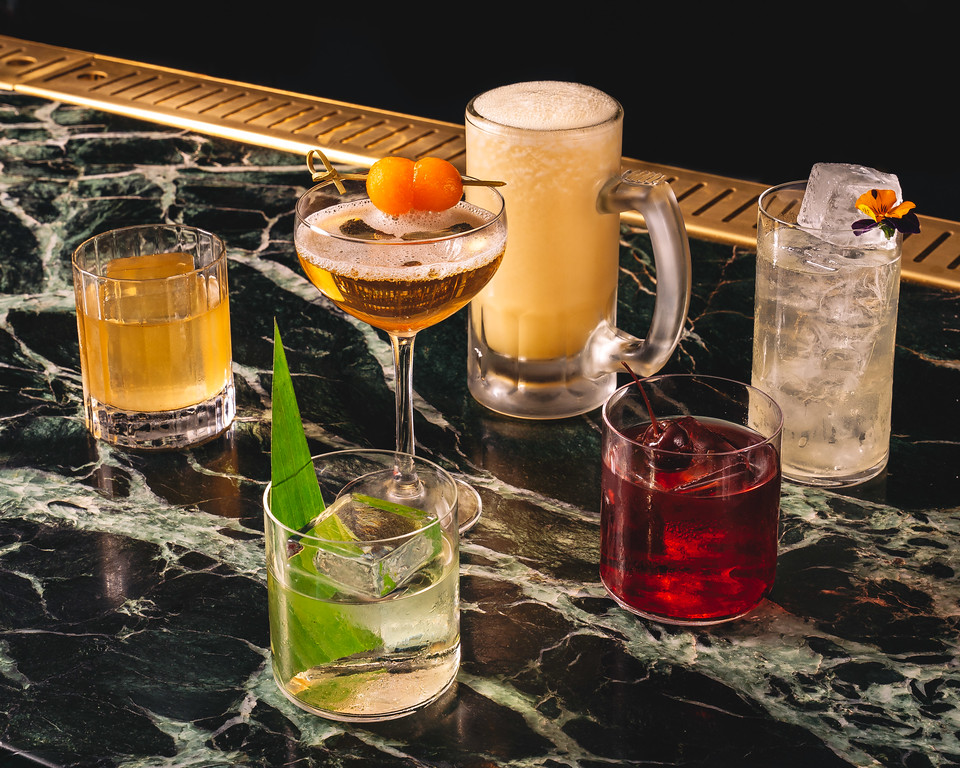 The Sacred Six
The first names on our team sheet. Six timeless Hawksmoor classics which will always be on our menu. If you're not already familiar with our bestsellers meet them below.
Shaky Pete's Ginger Brew
Beefeater Gin, Ginger, Lemon, London Pride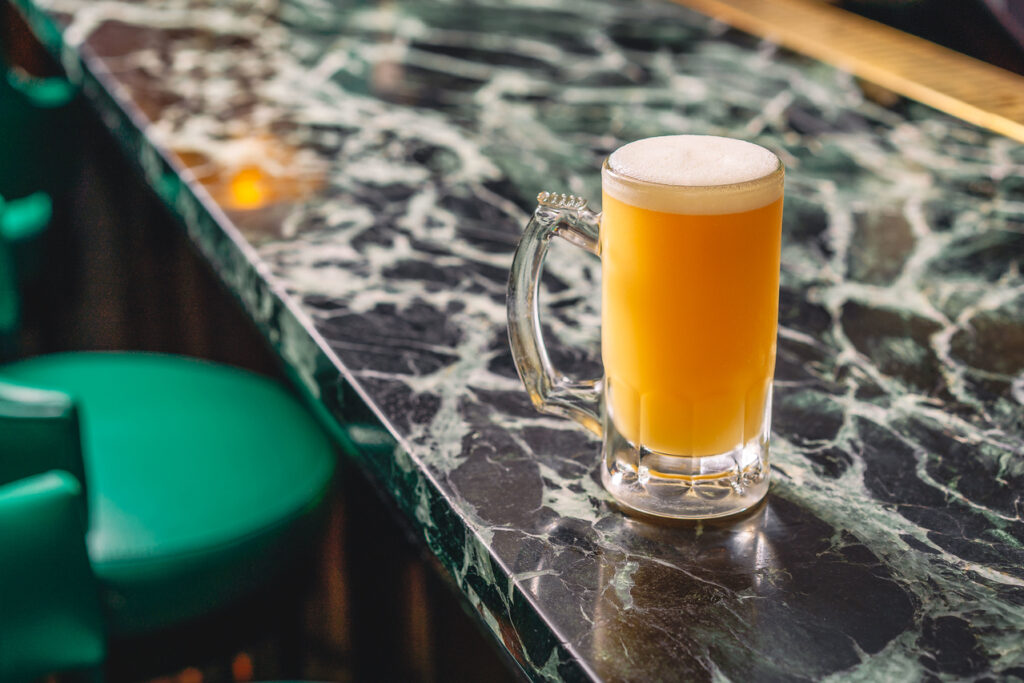 Our most popular cocktail for over a decade, 'Shaky' Pete Jeary's ode to the Power Shandy remains unchanged. Somewhere between homemade ginger beer and shandy, with an added gin kick, this incredibly refreshing pick-me-up now appears lightly disguised on lists across the land (Wobbly Bob's Ginger Brew anyone?).
A turbo-shandy for the discerning drinker. This was created by our very own 'Shaky' Pete Jeary after a visit to Hay's Wharf, a former brewhouse on London's South Bank that became a depository for
exotic imports (ginger, lemons) in the seventeenth century. It's incredibly refreshing – somewhere between homemade ginger beer and shandy, with an added gin kick. After making a late appearance on our list, it quickly became one of our bestsellers.
Also available in non-alcoholic form – just ask for a Steady Pete – Ceder's alcohol-free 'Gin', ginger, lemon, Thornbridge Big Easy.
Sour Cherry Negroni
Tanqueray Gin, Campari, Martini Rubino, Sour Cherry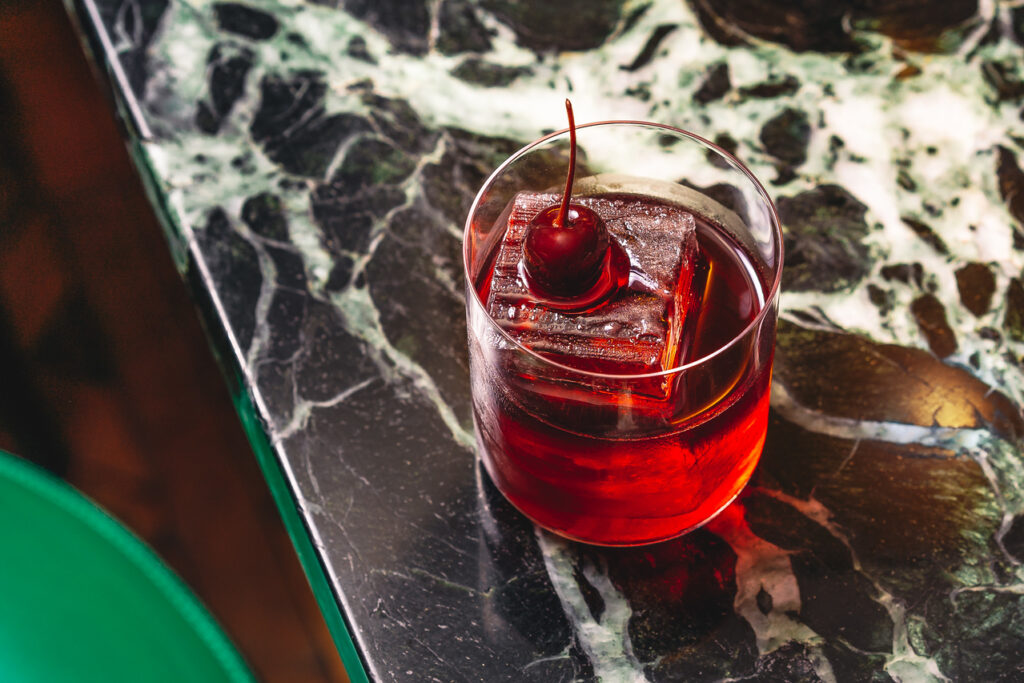 A bitter-beautiful Italian aperitif with preserved English cherries. This drink uses acid-adjusted sour cherry juice and rosé vermouth to put a contemporary spin on the familiar tipple.
"Our approach is simplicity and flavour without inundating guests with obscure ingredients or long-winded descriptions." Ciarrai Kelly, Head Bartender
Reformed Pornstar
Absolute Elyx, Passionfruit, Jasmine Tea, Champagne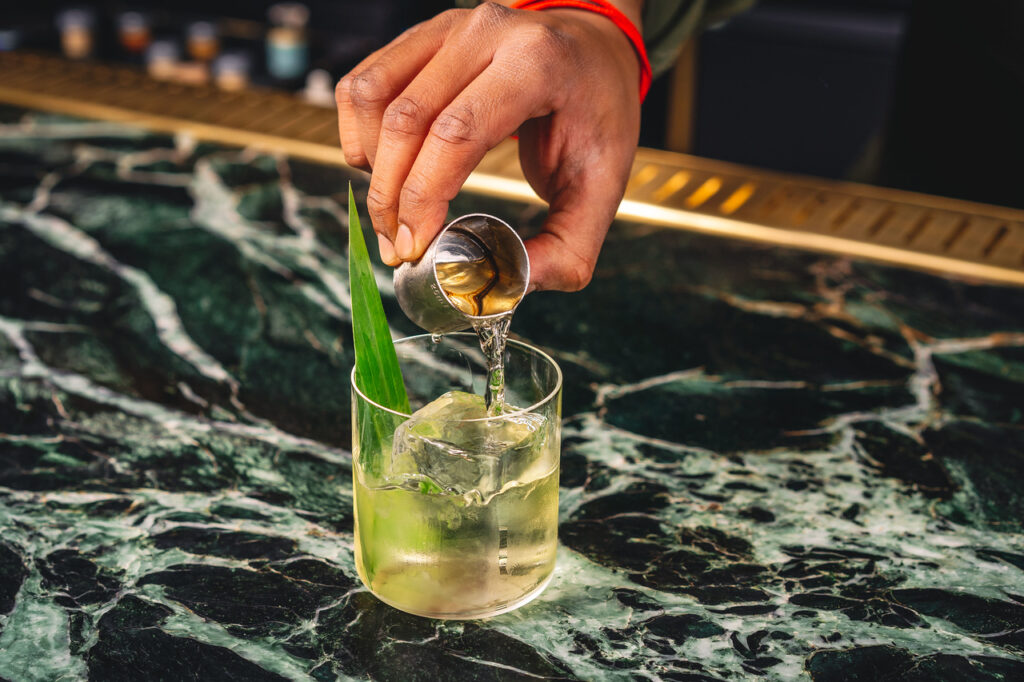 In an unlikely turn of events the Pornstar Martini, that pinnacle of sweet, silly London excess, here meets the 17th Century-clarified milk punch.
"The pornstar martini gets a delectable overhaul in the cheekily-named Reformed Pornstar. Passionfruit and vodka are still present, while the addition of jasmine tea and a champagne top-up give it a new, modern twist. But the real rounded flavour is down to the 17th Century clarified milk punch – a blended and strained concoction that creates a fantastically silky finish. Served with ice, don't be surprised if you're ordering this one more than once." OneCity
Double Melon Daiquiri
Havana Club 3.0 Y.O, Cantaloupe, Rose wine, Sour Watermelon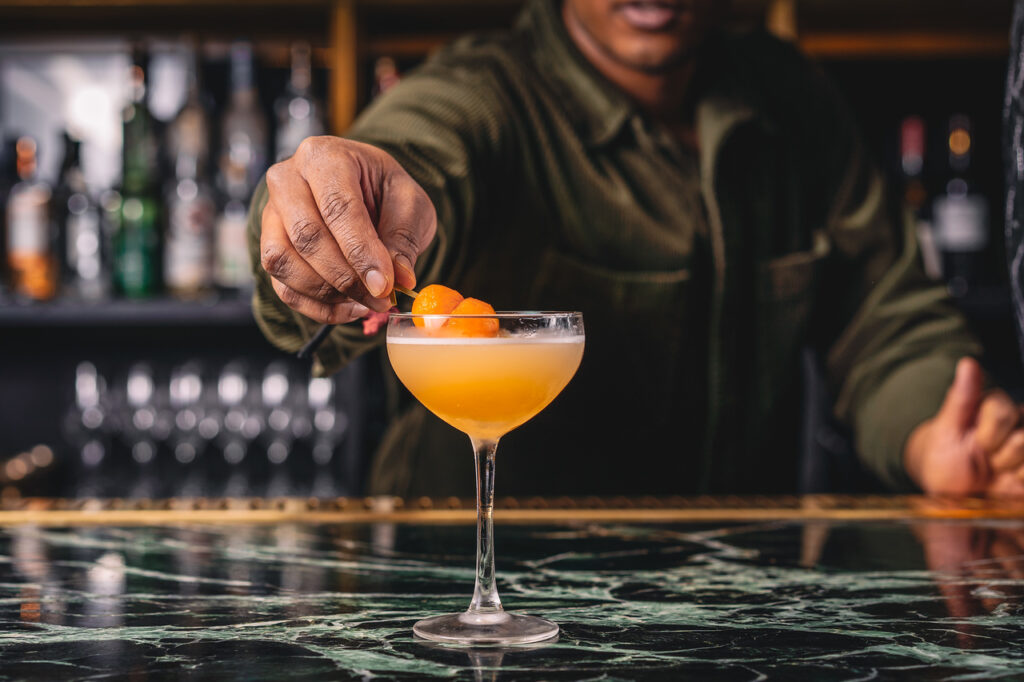 Nothing screams holiday to us like a cool wedge of cantaloupe melon. Brought to you here with extra sunshine courtesy of rum, rosé wine and a tart watermelon cordial.
Created during the darkest of winter months during lockdown 3.0 by our bartenders at Hawksmoor Spitalfields at the end of a long day bottling Hawksmoor at Home Cocktails.
The team were looking for a drink that transported them to an altogether sunnier place and this drink with its Med-inspired cantaloupe and tropical watermelon did the trick.
Hawksmoor Calling
Fords Gin, Manzanilla Sherry, Camomile Honey, Soda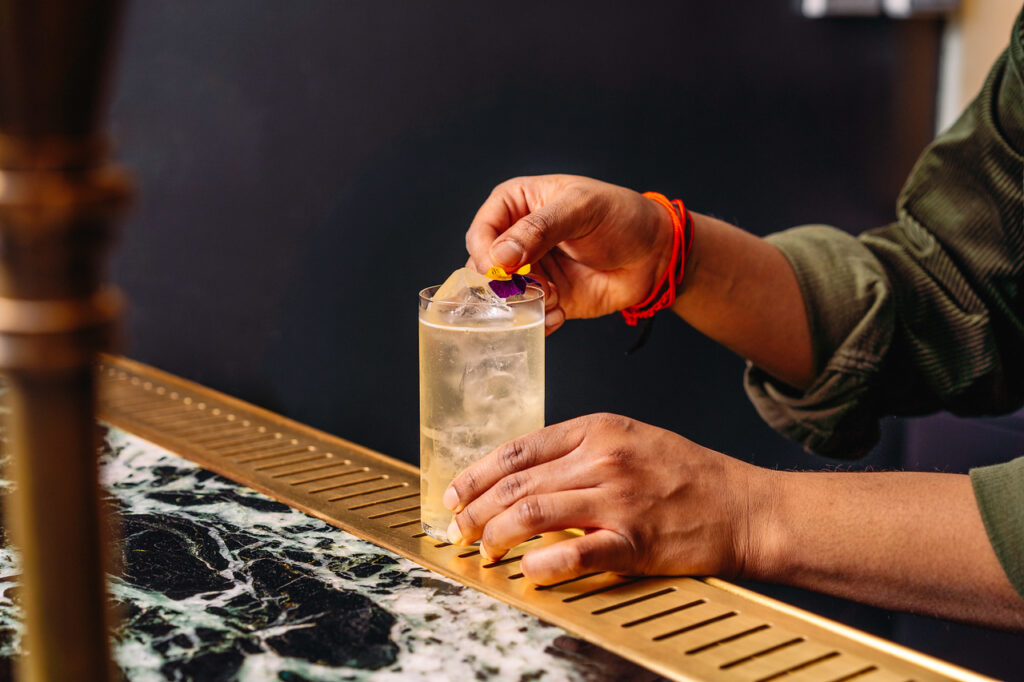 Hawksmoor Calling is a long, dry remix of an old favourite, the Hawksmoor Collins, made with Beefeater Gin, Salisbury Honey, chamomile, Fino sherry and fizz.
"A long, dry remix of an old favourite, the Hawksmoor Collins, that draws a little on a great millennial, Milk & Honey's London Calling. Made with honey and chamomile-infused gin, lemon and a touch of dry sherry, topped up with soda." Confidentials Manchester
Fuller Fat Old Fashioned
Woodford Reserve Bourbon, Salted Brown Butter, Tonka Bean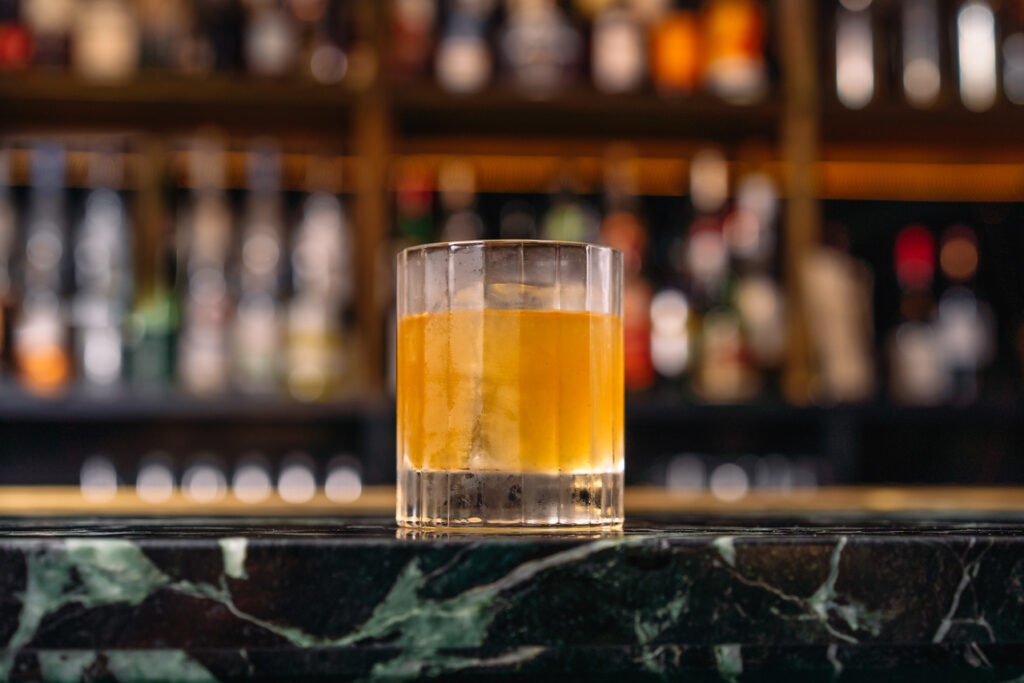 This leisurely sipper requires a painstaking process of infusing butter into bourbon in a water bath. Now with the added luxury of salted beurre noisette and a hint of aromatic tonka bean.
Nothing is new. When one of our bartenders heard about 'fat washing' back in 2010 they thought they'd discovered a new technique of molecular alchemy. Take a spirit and mix it with fat (butter, bacon, Dairylea) until the liquid takes on its flavour, then chill to coagulate the fat and strain it out.
It does involve a shiny high-tech gadget – the sous-vide machine – and NASA-style vacuum-sealed plastic pouches, but the process itself is by no means new. Way back in 1711 'a good housewife named Mary Rockett' jotted in her hand-written journal instructions for making Milk Punch, which includes…
"Add 2 Quarts of new milk Scald hot stirring the whole time til it crudles [sic] grate in 2 Nutmegs let the whole infuse 1 Hour then refine through a flannel bag."
Or in cutting-edge bartender speak, 'fat-wash brandy and milk'. The process is the same, except that the solids in a milk punch coagulate (curdle) of their own volition so it doesn't need to be chilled before straining. We've tried making Mary Rockett's recipe and halfway through it looks like a disgusting mess, beyond repair, but if you persevere the end result is clear, smooth and surprisingly delicious. And the high-tech sous-vide machine so beloved by lab-coated chef technicians? It turns out the blueprint for that was conceived in 1799 by Sir Benjamin Thompson, an eccentric statesman-inventor, who after accidentally leaving a shoulder of mutton in a machine he'd created for drying potatoes was delighted the next morning to find that 'It was perfectly tender, uncommonly savoury and high flavoured'.
The process was revisited in the 1960s by the industrial food industry as a method of preservation, before gaining culinary kudos and respectability when a chef at the famed Restaurant Troisgros in Rouanne used it successfully to cook foie gras.
It might not have been as innovative as he thought, but that bartender, Adam McGurk, did create something of moreish beauty.
Tags: Cocktails