Our food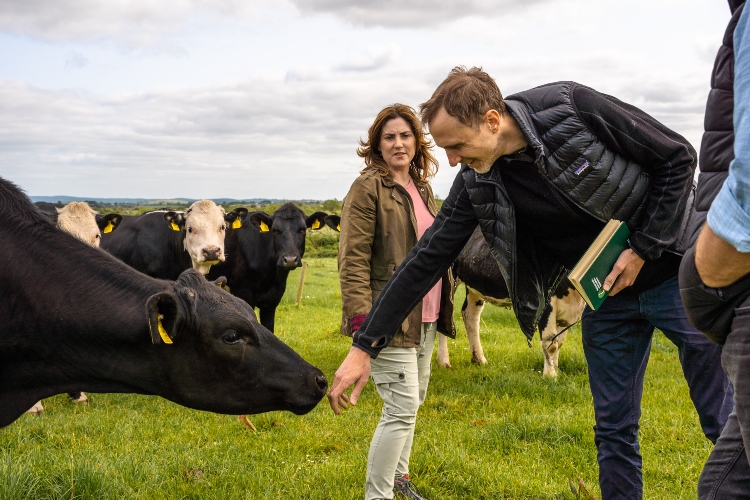 Beef
We've been criss-crossing the island visiting the amazing farmers, fishermen, cheesemakers and other producers behind the food we serve.
Along the way we've made lots of new friends, people like grass-obsessed Ronan in County Meath, Bronagh and Cathal whose Angus and Herefords roam the wilds of the Burren eating an incredibly diverse range of grasses, plants, wild herbs and flowers, and, closer to home, Peter in County Dublin whose herd of pedigree Dexters split their time between a rewilding former golf course, conservation-grazing protected coastal wetlands, and the grounds of Áras an Uachtaráin.
It's all been a reminder that ethics = flavour. All the important work happens out in the fields. If you want the best-tasting beef, you need to find passionate farmers who do things properly – nurturing their animals and the land on which they graze.
We've selected the best beef from small community farmers from all corners of the island, grazing cattle on rotation on fertile Irish soil, then dry-aged for 35 days and simply grilled over charcoal. BEEF + SALT + HEAT. When it's as simple as that the beef really has to be the very best.
Find out more here.
Seafood
From Dublin Bay to the Flaggy Shore
The waters around the island of Ireland are blessed with some of the finest seafood in the world.
Starting close to home, most of our monkfish are landed nearby by small dayboats seeking out highly-prized Dublin Bay prawns. Whilst these pint-sized-lobsters are now predominantly jetted abroad (we saw some recently in Miami for $100 each!), we are happy recipients of their monkfish by-catch, which is amongst the best we've ever tasted.
Following Seamus Heaney's advice(*), we then head west to three small bays on the Flaggy Shore (named for the local limestone, which often became flagstone floors), for oysters that derive their unique crisp, fresh flavour from the fresh water that trickles through the karst landscape of The Burren.
Next, north, past the rich estuarine home of Kelly natives (an occasional special when we can get our hands on them), and you might spot some currachs looking much like they would have done thousands of years ago. These small wicker-framed boats, which were once covered with cattle skins (nowadays tarred canvas), are used to catch our scallops, which are hauled up by hand.
Further still and you'll find the Old Farm oysters we roast with bone marrow in Sligo, which takes its name from Sligeach, 'Shelly River' … a reference to the abundance of shells in long estuary to Oyster Island where the Garavogue river meets the sea.
Back again across the country to Howth, and you might catch lobster pots being unloaded ready to be delivered to our kitchen. All of which feels like a journey that merits a trip back to Hawksmoor for a dozen oysters and a well-deserved pint…
Wine
Through arduous wine-fuelled eating and drinking sessions (it's a tough job running a steakhouse, but someone has to do it), we've chosen our favourite wines from obscure small producers and big-name vineyards alike.
Unsurprisingly, the focus is on wines that go as well as possible with steak. We've also found that different wines suit different cuts and different degrees of done-ness (or what the French more elegantly call 'cuisson').
Our wine managers in each restaurant have created award-winning wine lists, shaping each list to fit the restaurant, showcasing wines from all over the world. So, whether you feel intimidated when it comes to wine or you like to dive right in and have a good old splash around because it is your favourite pastime, by all means, get our wine managers involved.
They are there because they are incredibly passionate about what they do and they can't wait to chat to someone about the vast array of wines we have on offer.
Whatever your taste, mood or budget, we can guarantee our wine managers will find something to suit.
Cocktails
Cocktails at Hawksmoor are deceptively simple-seeming drinks that belie the hours of painstaking research, travel, tastings and technique that the bar teams have put into them.
It's a process that allows us to bring out the best of Hawksmoor talent, commitment to sustainable quality ingredients and unwavering urge to do better to the fore – from infusing wine, finding ways to bring drinks to freezing point and discovering the best distillers that will do the vision justice (and vice versa).
From sub-zero martinis (hailed "the coldest in New York") to an homage to the Second Golden Age (the era that resurrected the craft of the cocktail to our unwavering classics) and the Sacred Six – timeless Hawksmoor classics that will always be on our menu – all to help the decadent you kick back and celebrate life with friends and family.