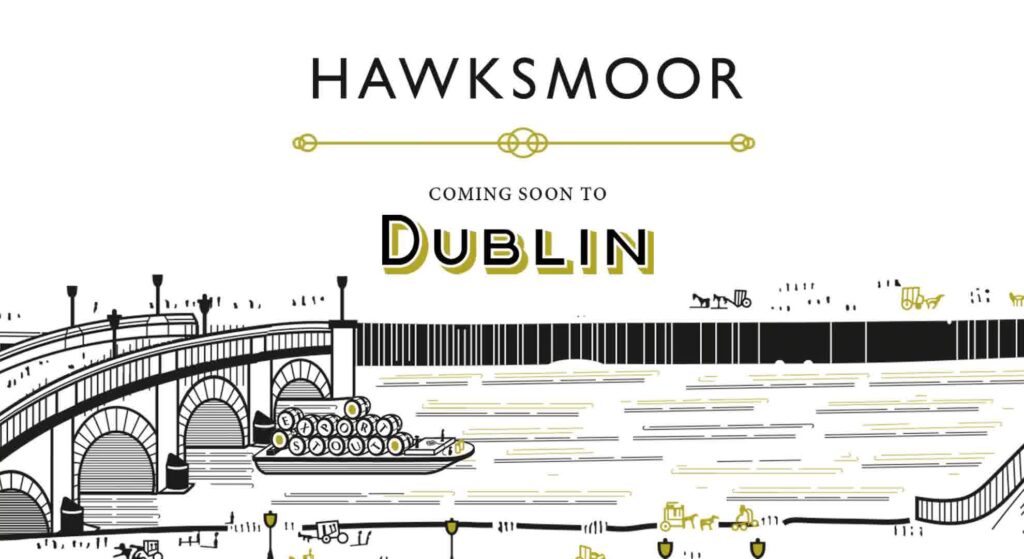 Maps tell stories
Cartophile [Car-tuh-fahyl] noun. The fancy word for a map lover. 'Carte' being 'map' in French and you know how the '-phile' bit works. Anyway, we have a life-long map lover in our ranks – co-founder, Huw. Besides being fun to look at, he maintains that maps tell stories.​
To honour his passion, we like to create our own intricate maps of the cities we build restaurants in and draw upon the many facets (and faces) of the local history. Of course, it helps us to connect with a destination's storied past, but also it adds a sense of place to our menus and interiors.​
In the case of our new Dublin home in the National Bank on College Green, we've (quite literally) drawn inspiration from a bird's eye view map of Dublin from 1846 and resurrected a Guinness barge, straight from "Ulysses", which used to chug down the Liffey from the brewery to the mouth of the river, where the barrels were loaded onto oceangoing ships too big to pass beyond the O'Connell Bridge: "As he set foot on O'Connell Bridge, a puffball of smoke plumed up from the parapet. Brewery barge with export stout. England. Sea air sours it, I heard." ​
Lizzie Byrne's memories about the good old days, leaping from the pages of 'Dublin Street Life & Lore: An Oral History' by Kevin Kearns, and painting a vivid picture of Dublin, lend themselves as the soundtrack to the illustration: "Cobblestones, lamplighters, jarveys, jaunting cars. And people, hearts as big as themselves."​
James Joyce and his novel "Ulysses" lend us a hand when the time comes to talk about desserts (when is it NOT time to talk about desserts?) and visualise the menu. Tempted by his evocative references to food appearing in different parts of the book (like when the main character, is hit by the smells from Dublin's Harrison's Confectioner and Luncheon Rooms), we're inclined to think that sweet things should always sound how they taste: ​
"Newbaked jampuffs roly-poly"​
"Blancmange with blackcurrant jam"​
"The rum, the rumdum"​
"O, that's nyumnyum"​
"Ulysses" also features a famous real-life bicycle race that took part at Trinity College and this association to cycling gave birth to the fabled 'Joyce-Cycle' (every Bloomsday lots of people dress up as Irish writers and cycle around the city). So, we've mashed his love of food, wordplay and cycling into an intricate crazy-dessert-cycle-athon illustration. A feast for the eyes, nyumnyum. ​
Then, inspired by a quote from "Waiting for Godot" by the Irish literary legend Samuel Beckett, who attended Trinity College (an olive's throw from our building), and paying tribute to the Dublin Lawyer (a lobster dish with a whiskey-cream sauce that is "as rich as a Dublin lawyer"), our design team have resurrected a jubilant wine-loving lobster and two Dublin Bay prawns dancing away. "Dance first, think later, it's the natural order" is their motto. We concur. ​
Categories: News